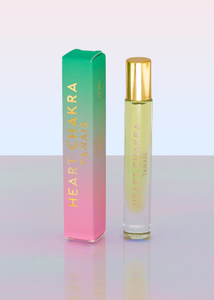 Regular price
HEART CHAKRA 10 ML ROLLERBALL PERFUME
---
Heart Chakra | Cannabis | Citrus | Florals | Evergreen
Fragrant as fresh-dried green cannabis bud laced with shades of pink and blue, heady terpene notes of pink grapefruit, wild white pine, rose petal and jasmine sambac. Each batch of Heart Chakra is distinctly its own blend, evoking strains of weed that are never ever quite the same.
Head: Evergreens, Grapefruit, Laurel
Heart:  Cannabis, Jasmine Sambac, Wild Lavender, Rose Maroc
Base:  Ivy, Floral Musk
Ingredients: Organic fractionated coconut oil, isopropyl myristrate, essential oils, resins, absolutes, fine fragrance raw materials.
10 ML