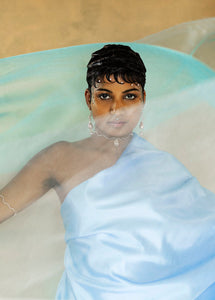 Regular price
NĀMAKA 50 ML EXTRAIT DE PARFUM
---
Nāmaka | Citrus | Floral | Oceanic | Lactonic
Inspired by the Hawaiian goddess of the sea, a crown of tiare flowers blooms as she emerges from the salted winds of the Pacific Ocean, with subtle tropical traces of coconut milk, jasmine sambac and botanical ambergris.
Head: Egyptian Neroli, Marine Accord, White Grapefruit
Heart: Rare Tiare Flower, Mimosa Olessence, Coconut Milk, Plumeria Petal
Base: Eucalyptus absolute, Nutmeg, Botanical Ambergris, Roasted Seashell
Ingredients: Organic Cane Alcohol, isopropyl myristrate, essential oils, resins, absolutes, fine fragrance raw materials.
50 ML 
Ships Ground. Due to restrictions on flammable goods, this item cannot ship International, Alaska or Hawaii.