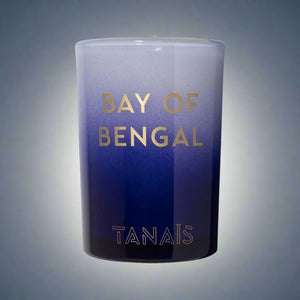 Regular price
BAY OF BENGAL 8 OZ. CANDLE JAR
---
August 2023 Update: Candle Jars are now 50% off and $30 due to the cost of all raw materials! Sadly, It isn't sustainable to make new batches with our remaining jars & our small team, thanks for the love & support. XO, Tanaïs & Talysha
All candles are Limited Edition and will be discontinued when we sell out of stock. Price reflects the cost of raw materials for BAY OF BENGAL.
Inspired by the silvery, salted waters at the longest coastline in the world, in Tanaïs' motherland, where the great rivers of South Asia meet the Indian Ocean.
Top Notes: Coastal Driftwood & Sea Salt
This fragrance is only available as a candle, not as a perfume.
100% U.S.-grown soy, cotton wick, deep blue and periwinkle ombré silkscreened jar, fragrance. Burn responsibly.
Burn time: 60 hours
*Our candles are made with uplifting top notes, so there is a variation from the perfumes, which contain many more natural ingredients.