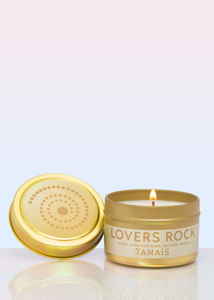 Regular price
LOVERS ROCK 4 OZ. CANDLE TIN
---
All candles are Limited Edition and will be discontinued when we sell out of stock. Automatically 50% off at checkout.
Evocative of slow dances to vintage reggae spinning on vinyl, a bodied blend of sultry notes: tobacco, Bourbon vanilla and sandalwood and sexy spices of clove, cinnamon, cardamom and black pepper.
Top Notes: Clove, Cinnamon, Nutmeg & Vanilla
100% U.S. grown soy, cotton wick, gold metal tin, fragrance. Burn responsibly.
Burn time: 25 hours
*Our candles are made with uplifting top notes, so there is a variation from the perfumes, which contain many more natural ingredients.