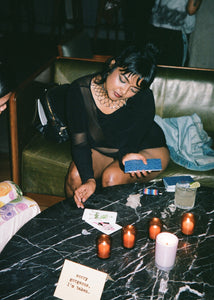 Regular price
Vision Tarot with Tanaïs
---
I've been a Tarot card reader for the last 12 years, a divination practice I started soon after being laid off from a startup. I felt myself drawn to Tarot as a way of making sense of my life, dreams, aspirations. I am not a psychic, but an interpreter of the cards, which represent the immense and infinite swathe of human experiences. With empathy, intuition and  energetic exchange, I pull 10 cards to give you clarity on a situation, a decision, a relationship or a project.
Each virtual reading is 1 hour long, recorded on Zoom, and although you can revisit this session in the future, I think just as the Earth keeps turning, and you keep asserting your free will in your life, the reading will keep evolving, so it's best to receive the message and move on and through your life.
Photograph by Jenevieve Ting for Jia Sung's Taror Deck launch, The Trickster's Journey, available here.