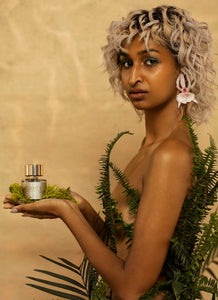 Regular price
ANCIENTS 50 ML EXTRAIT DE PARFUM
---
VIBE
Fougère | Evergreens | Wet Soil
Inspired by the eternal quietude of ancient redwood forests in California.
HEAD
Kashmiri Lavender, Blue Cypress, Blue Violet, Rosewood & Laurel
HEART
Geranium Absolute, Balsam Fir, Violet Leaf 
Atlas Cedar, Tonka Bean, Forest Moss & Ivy
Ingredients: Organic Cane Alcohol, isopropyl myristrate, triethyl citrate, essential oils, resins, absolutes, fine fragrance raw materials.
50 ML 
Ships Ground. Due to restrictions on flammable goods, this item cannot ship International, Alaska or Hawaii.