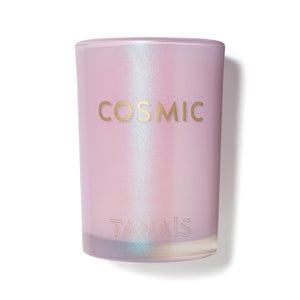 Regular price
COSMIC 8 OZ. CANDLE
---
August 2023 Update: Candle Jars are now 50% off and $30 due to the cost of all raw materials! Sadly, It isn't sustainable to make new batches with our remaining jars & our small team, thanks for the love & support. XO, Tanaïs & Talysha
All candles are Limited Edition and will be discontinued when we sell out of stock. Price reflects the cost of raw materials of COSMIC.
Rituals of burning to reach the stars, with notes of interstellar smoke, burning bonfires and fragrant, narcotic night flowers of jasmine, neroli and white lotus.
Top Notes: Jasmine & Bonfire Smoke
This candle has been reformulated to be a deeper jasmine note with a touch of smoke.
100% U.S.-grown soy, cotton wick, gold metal tin, fragrance. Burn responsibly.
Burn time: 60 hours
*Our candles are made with uplifting top notes, so there is a variation from the perfumes, which contain many more natural ingredients.