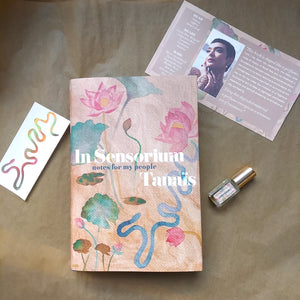 Regular price
IN SENSORIUM 3 ML PILGRIMAGE PERFUME VIAL
---
NOTE: THE 50 ML BOTTLE IS A PRE-ORDER ITEM & WILL SHIP MID-DECEMBER. IT DOES NOT COME WITH A FREE COPY OF THE BOOK UNLESS THIS IS SELECTED IN THE DROP-DOWN MENU.
Inspired by IN SENSORIUM: NOTES FOR MY PEOPLE BY TANAÏS (Harper Books 2022) Available as:
3 ML Sample Vial only
3ML Sample Vial & Book Bundle
Each order comes with special edition Holographic Serpent sticker designed by the book's cover artist Chioma Ebinama.

Notes
HEAD
Nutmeg,  Saffron,  Juniper Leaf

HEART
Genda Attar, Marigold Gulab Attar, Rose, Carnation, Cardamom, Indolene

BASE
Mysore Sandalwood, Dark Patchouli, Seaweed Absolute, Buddha Wood, Mitti Attar, Saltwater Accord, Pyre Ash & Organic Cane Alcohol

 From IN SENSORIUM:
"Losing my sense of smell terrified me, threatening my livelihood and what brought me so much pleasure. When I regained my strength and nose, I went to my perfume studio to work on a commissioned fragrance. Bay of Bengal saltwater accord, dirtied drop by drop with the murky notes of patchouli, seaweed absolute, and red Buddha wood, reminiscent of river pollution, pyre ashes, aquatic funk. Mitti attar accord sourced from Kannauj, remnants of worship flowers, carnation, rose, and marigold, bright and spicy florals punctuated by cardamom and the nutmeg at its heart. Perfume would be my pilgrimage."