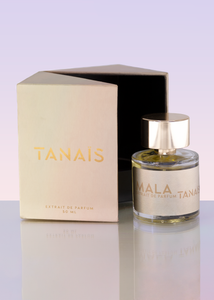 Regular price
MALA 50 ML EXTRAIT DE PARFUM
---
Mala | Tobacco | Garland of Rose, Marigold, Carnation | Incense
Inspired by flower garlands threaded for rituals commemorating life, love and death in New Delhi, with traces of incense, saffron and henna. Deep, dark and sensuous.
Head: Clary Sage, Coriander, Saffron
Heart: Rose Maroc, Genda (Marigold) Attar, Carnation Essence, Cardamom
Base: Nag Champa Incense Accord, Sandalwood, Choya Nakh (Roasted Seashell), Tobacco Absolute
Ingredients: Organic Cane Alcohol, isopropyl myristrate, essential oils, resins, absolutes, fine fragrance raw materials.
50 ML 
Ships Ground. Due to restrictions on flammable goods, this item cannot ship International, Alaska or Hawaii.